Phung Hiep District People's Committee in collaboration with Saigon Children's Charity CIO - UK and sponsor Zwilling held the inauguration ceremony of the computer room at Tan Phuoc Hung Primary School. The classroom includes 15 computers and 1 server with a total value of 136 million VND. This project is funded by Mr. Markus Thuere, Zwilling and counterfund from Phung Hiep district's budget
Tan Phuoc Hung Primary School located in Tan Phuoc Hung commune, Phung Hiep district, was established on July 21, 1997. The total number of poor students is 117/630, accounting for 18.6% of the total number of students at the school. In the school year 2021-2022, there are 24 classes with 630 students. The total number of staff, teachers and employees is 37 people. Despite many difficulties, the school has been recognized as the best school for many consecutive years and many excellent individuals were praised by the People's Committees of districts and provinces thank to the concern of Party committees, authorities at all levels and efforts of teachers and students.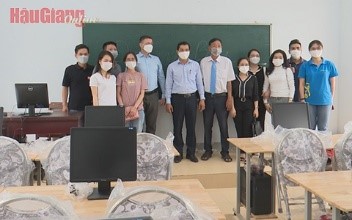 Speaking at the ceremony, the school's representative committed to effective management and use of the project, and wished that saigonchildren and sponsors would accompany with and create favorable conditions for the school to overcome difficulties in terms of facilities such as fences, concrete yard, sanitation facilities, clean water, function rooms, subject classrooms, etc., and equipment for teaching and learning.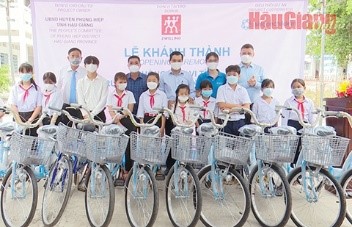 On this occasion, the sponsor also donated 15 bicycles with a total value of more than 27 million VND to disadvantaged students of the school to go to school more easily.