The Vietnamese Embassy in Russia recently organized an event celebrating the Vietnam-Laos friendship in Russia.
This is an activity to celebrate the 60th anniversary of the diplomatic relations between
Vietnam and Laos
(September 5, 1962 - September 5, 2022), the 45th anniversary of the signing of the Vietnam-Laos Treaty of Friendship and Cooperation (July 18, 1977 - July 18, 2022) and the Year of Friendship and Solidarity between Vietnam and Laos.
Speaking at the event, Vietnamese Ambassador to Russia Dang Minh Khoi reviewed important milestones in the history of special relations between Vietnam and Laos. He said that the relationship between the two sides has been consolidated and developed extensively in all fields.
The Ambassador said that the Vietnamese Party, State and people always support the renovation cause in all aspects of Laos; paying special attention to fostering the friendly relations between the two parties, countries and peoples. Laos has always been a top priority in Vietnam's foreign policy.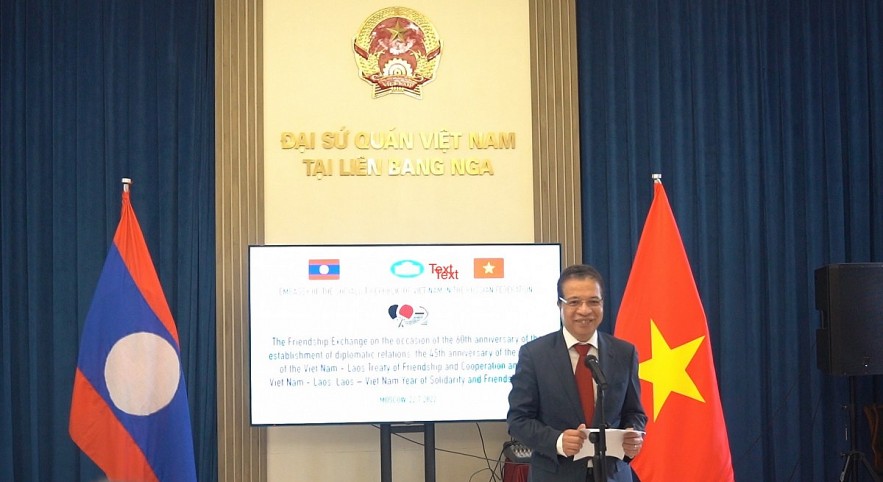 Ambassador Dang Minh Khoi said that deepening this special friendship is the responsibility of generations of people of the two countries, striving for a bright future for Vietnam and Laos.
The Vietnamese Embassy in Russia will make efforts to consolidate and cultivate the special Vietnam-Laos relationship in the spirit of respect and support for mutual benefits.
"Our relationship is not only 60 years old, it goes beyond that. For generations, the people of Vietnam and Laos have lived together. When talking about the special friendship between Vietnam and Laos, embedded in the heart of Lao person is the statement of President Ho Chi Minh: "Vietnam and Laos, our two countries have a friendship deeper than the Hong Ha and Cuu Long rivers," Ambassador Dang Minh Khoi said.
Lao Ambassador to Russia Vilavanh Yiapoher said that the Lao Party, Government, and people will never forget the merits and deep gratitude to President Ho Chi Minh, President Kaysone Phomvihane and President Souphanouvong for their contributions to the relationship between Vietnam and Laos.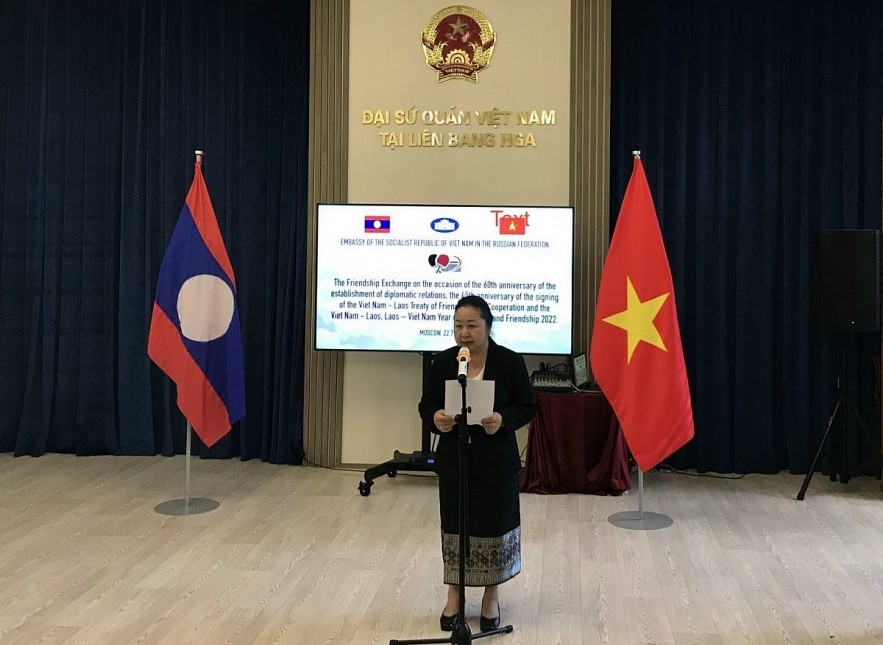 Currently, the relationship between the two Parties, Governments and peoples is consolidated in all fields. The Lao and Vietnamese embassies in Russia always have a good relationship and practical cooperation.
On this occasion, Ambassador Vilavanh Yiapoher wished the Laos-Vietnam friendship "forever green, eternally sustainable".
Ambassador Vilavanh Yiapoher said: "We see the Laos-Vietnam relationship as the greatest friendship ever seen in the world. We consider the relationship with Vietnam as the first important for Laos. We have always trusted Vietnam and hope that the relationship will develop."
At the event, diplomats and representatives of Vietnam and Laos participated in friendly matches of table tennis. The dishes imbued with the identity of Vietnam and Laos also make the two sides understand more about the cuisine of the two countries.
In particular, the special cultural and artistic program attracted the participation of everyone.
This is a meaningful activity of the Vietnamese and Lao embassies in Russia, marking an important milestone in the solidarity and friendship of the two countries.