In the afternoon of November 5th , the signing ceremony of cooperative agreement between Phung Hiep district (Hau Giang) and Gangjin-gun district (Jeollanam-do province, South Korea) took place at Hau Giang People's Committee. Mr. Dinh Van Chung, Deputy Permanent Secretary of the Provincial Party Committee, Mr. Tran Cong Chanh, Chairman of Hau Giang People's Committee, Mr. Cam Quang Vinh, Chairman of Phung Hiep district and many leaders of other departments attended the ceremony.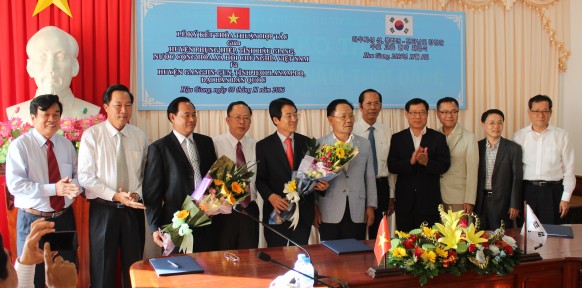 The two districts agreed to have further efforts to tighten ties of friendship and socio- economic development, on the basis of respecting national culture - customs of each other, on the principles of equality, mutual benefit of the two areas in which the two districts are strong in such as agriculture, business, science, education, healthcare, engineering .... Gangjin-gun district will be interested in and give active support for the Vietnamese families residing in the district.
Cooperative Agreement is effective for 5 years from the date of signing. Previously, the leaders of Phung Hiep District and Hau Giang province had a visit to Gangjin-gun district in May 7th, 2013.